Kirby is a very simple series. You run, you jump, and you copy abilities, yet Nintendo has turned this tried and true formula into something most games can look back on and fondly chuckle about. Kirby is a very long running series now that is undeniably fun, but not everyone may have played some of the older entries, especially the younger crowd. You may want to take it upon yourself to hop in your way back machine and try Kirby's Adventure.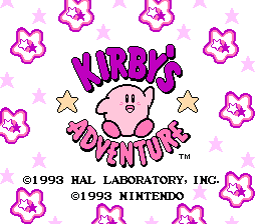 Kirby's adventure is the second entry in the Kirby Series. Originally created as a character that could be easily drawn by children and Kirby's Dream Land was meant to be an easy yet fun game for children and newbie gamers, while also being enjoyable to the veteran crowd. Kirby's Adventure for the NES is the same concept - a simple game with simple mechanics, but the difficulty level is much increased from its predecessor.
Kirby's Adventure makes a few noteworthy improvements to the franchise. Controls are much smoother, and the game moves at a faster pace. Secondly, the graphics, while still basically the same, are really brought to life with the color, plus Kirby is finally Pink, his original intended color. Perhaps the biggest addition is Kirby's now famous copy ability! By inhaling enemies, and then swallowing them, Kirby can mimic their attacks. You can wield a sword, shoot lasers, and more! I know it's hard to imagine Kirby without this power now, but it was REALLY cool when it was first introduced.
The NES is of course capable of higher quality sound, so the music certainly doesn't suffer here. The old tunes from Dream Land as well as the new melodies all sound wonderful. Kirby is known for its light hearted (mostly) but catchy rhythms that ensnare your ears and don't let go even after you turn the game off.
The game consists of 7 worlds, each with about 6 levels and a boss fight. To complete a level, you must navigate through the levels and enter the star door. All of the levels are accessible for replay through the map, which is fully explorable. Along with the level doors, there are also some mini games to occupy your time like a grab machine that can fetch you more lives. The gameplay as mentioned, is very simple. You run, jump, and copy as you navigate each level, and the game progressively gets harder. Things never get too frustrating (even the final boss is a matter of memorizing patterns), but it definitively keeps you more engaged than Dream Land, and you may find yourself running out of lives for unexpected reasons.
The story of Kirby's Adventure is quite simple. The Fountain of Dreams controls the dreams of all inhabitants of Dreamland, but when Kirby wakes up after having no dreams, he goes to investigate. The Star Rod, which is the Fountain of Dream's source of power has been stolen by King DeDeDe, and so Kirby sets off to reclaim it.
This is a review, and as such, I am supposed to point out the negatives alongside the positives and give my final opinion - but there's the problem. I can think of nothing truly negative to say about Kirby's Adventure! There is no such thing as a perfect game, and no game in existence deserves marks such as "10/10" or "perfect". I'm sure there is something wrong with this game, but I sure don't know what it is. Kirby's Adventure is a fun, endearing, and damn near unforgettable game that you should make it a point to go back and play, or acquire if you have never experienced it. It is available on the NES in cartridge form at around $10, on the Wii's Virtual Console for 500 points, and on Kirby's Dream Collection for the Wii.