Anarchy Reigns slipped under my radar - and a lot of other people's radar. I didn't even really know about it until after it was released. AR is a budget title from Platinum Games and is a pseudo sequel to the Wii hit Madworld, which makes it even stranger that it went so unheard of before launch.
Jack Cayman is back, but this time he's not a contestant on a gameshow. Jack is a chase, or bounty hunter rather. He has been hired by Maximilian Caxton's daughter to find him. The kicker is that Max murdered Jack's daughter, so he's struggling with rather or not to bring him in, of just get his revenge. Many characters return from Madworld, but there are some new faces as well. In the campaign, you can also play as Leo, a BPS agent. I'm not sure what BPS stands for, and I don't recall the game explaining, but they're basically a military like police force. I found Leo's campaign to be less fun because most of the characters you get to play during it were uninteresting or unlikable to me. Both campaigns are fairly short, and only consist of 5 stages with about 6 missions a piece.
In the campaign, game play is a bit similar to Madworld, but is also very different. The object is to kill enemies and earn points which will unlock story missions, allowing you to advance. You can still impale enemies with signs, and slam tires over their torsos, but the environments are much less interactive than in Madworld and overall, you're just as well off the mow through with with your chainsaw (or whatever your character of choice's weapon is). The game is't very deep - in fact, it's quite shallow, but it is well done and can certain be enjoyed for an hour or two at the time. The real draw to this game is multiplayer, however.
In multiplayer mode, you select from any of the 16 playable characters (17 is you pre-ordered and got a Bayonetta DLC code). Each character controls the same, but has different weapons, attacks, and stats. While you can play 1-on-1 cage match scenarios, it's far more interesting to play team deathmatch or capture the flag. It's an interesting take on these normally FPS game modes, and it's pretty satisfying to beat the crap out of your opponent with their own flag and then score. The problem is finding matches in the first place. While some professional reviews I've read have praised the game's online, claiming finding matches is easy, I found it rather difficult to find much other than 1-on-1 death matches. The multiplayer is certainly worthwhile if you have friends to play with, or you sign on in time to find a party, however.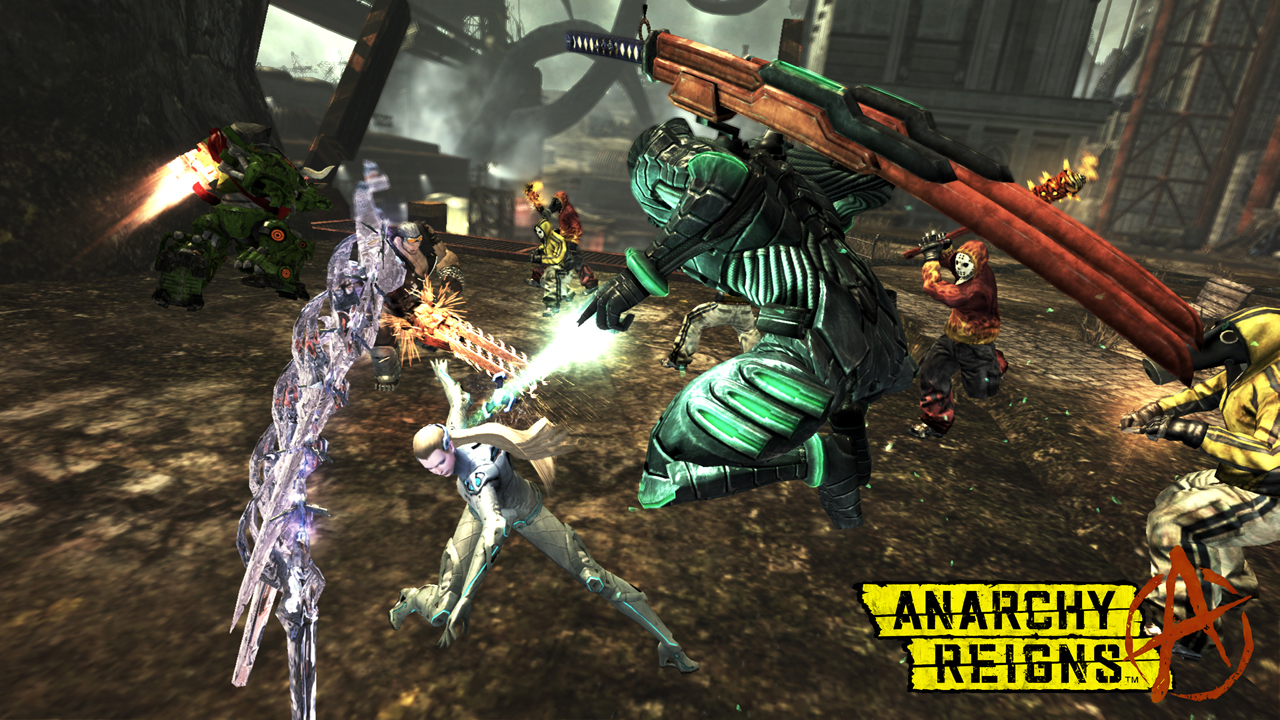 Graphically, the game delivers, but doesn't really go out of its way to look great. The black-and-white style of Madworld is gone, but the post-apocalyptic world looks just as desolate in color. Character models animate well, but there isn't any really extensive detail. The violence is also very toned down from Madworld. While enemy NPCs can be cut in half and dismembered, they all bleed this strange blue liquid and occasionally motor oil. The playable characters bleed, but that's really all they do - you can't do any real damage to their models. This is very odd considering the brutality of Madworld.
The soundtrack is mostly composed of original raps written for the game. Normally, I hate raps, but the lyrics are fairly creative and fit the scenarios they are used in well. Most of the songs are fairly memorable, as well. The voice work is pretty decent, and sound effects are what you'd expect.
Anarchy Reigns is a simple and fun beat-em-up with a multiplayer focus. The campaign is short, but slightly entertaining. Most of the characters are pretty interesting, but the game is certainly not amazing or ground breaking by any means. It's not on par with Platinum's other games, and if you're looking for a long winded, super polished game, try Bayonetta, Devil May Cry, or even Madworld on the Wii - Anarchy Reigns is not what you're looking for. On the other hand, if you just want to mow through some guys with a chainsaw and occupy yourself with some interesting multiplayer for a while, Anarchy Reigns will certainly scratch that itch, and may be worth your $20 as long as you don't expect too much from it.