If you see the word "amazing" in a games title, shouldn't that entail that the game is pretty good? The developers who made Amazing Island didn't agree. This game is a major letdown for a lot of reasons, but mostly because its premise isn't that bad.
The idea is that you are the savior of a small island of tribal folk, and you are saving them from a giant black evil bean-shaped thing. I wish I were joking. Hilarity aside, the game is marketed towards children, and they're likely to enjoy the story regardless of how stupid it is. The story isn't really what this game is all about anyway. By now you must be wondering how you're going to save this island. By competing in a bunch of minigames with your monsters of course!
The first monster you get will more of less be created for you, and most likely looks really, really dumb. At least it will be symmetrical, unlike most of your manual creations. As you progress you will be able to make more monsters, but none of them are likely to turn out the way you truly want them too. The drawing tool is clumsy, and though the game touts how creative you can be, you're actually a bit more limited than you may at first realize.
The graphics are well done and have a sort of chibi style to them. All of the characters look quite adorable, and the textures for the most part are very smooth. I was impressed by some of the environments as well. Overall the graphics are nothing amazing, but they accomplish their goals quite well.
The sound design is pretty lackluster, with most of the monster sounds being downright annoying and the music being pretty much the same everywhere you go. Granted, it's not the same track, but it might as well be. There is no voice acting outside of a few grunts and noises. I guess that's a good thing if the voices would have been any more annoying than the already in place sound effects.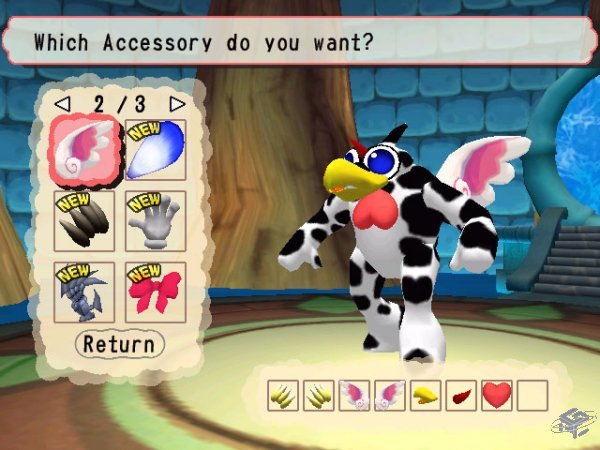 The minigames in Amazing Island are quite varied, and consist of everything from races to contests of strength. The problem is that there aren't really enough different challenges, and after a while you're just doing the same minigames on harder difficulties. Even the final boss is a hard version of an earlier game. Some of the games are more fun than others. I particularly liked the one where you have to get your monster going as fast as possible, jump them off a cliff and them flick the control stick with proper rhythm to skip them across the water. All of the minigames are fairly simple, and none of them use more than 2 or 3 buttons. As mentioned, the target audience is children, and honestly I could see why a child might like this game, but everyone else should probably just stay away. The game isn't horrible, but it doesn't really live up to its own expectations. I actually think this game came out ahead of its time, and I'm really surprised there hasn't been a DS or Wii U sequel planned, since we now have better drawing tools. Amazing Island just isn't that amazing after all, I can't find much reason to recommend it to you outside of its uniqueness.