http://www.nintendolife.com/news/201...ndon_comic_con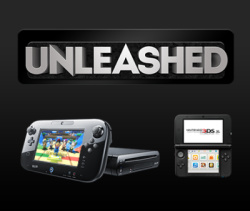 Preparing for the final stop
The last stop for the 2013 tour.
As part of a sustained campaign to raise awareness of the Wii U and 3DS libraries, Nintendo UK has been taking its Nintendo Unleashed tour to various expos, events and locations, including a major presence at the recent Eurogamer Expo. The company has now confirmed its lineup for this week's MCM London Comic Con (25th to 27th October at London's ExCeL – Royal Victoria Dock), which will be the last stop of this year's tour.
The recently released 2DS will be available for hands-on time, which is once again being targeted towards children and families. There'll also — more importantly — be plenty of games, details below.
Wii U
Sonic Lost World
Bayonetta 2
Super Mario 3D World
The Legend of Zelda: The Wind Waker HD
Donkey Kong Country: Tropical Freeze
LEGO Marvel Super Heroes
Mario Kart 8
Spin the Bottle: Bumpie's Party
3DS and 2DS
The Legend of Zelda: A Link Between Worlds
Sonic Lost World
Pokémon X and Pokémon Y
Putty Squad
SteamWorld Dig
Hakuoki: Memories of the Shinsengumi