Release Date: 1992
Platforms: Arcade, Neo Geo, PSN
Developer: SNK
Publisher: SNK
In the early 90s, Street Fighter 2 ruled the fighting game scene with an iron fist. It had its share of competitors in the form of various knock offs but it was relatively uncontested as far as sales and popularity. Then, the Art of Fighting came along and offered players something a little different, at least from a gameplay perspective.
Art of Fighting introduces a gi-wearing martial artist named Ryo, who's signature moves are a fireball, a skyward uppercut, and a flying kick. His best friend/rival is a rich playboy with the same moveset. Sound familiar? Okay, so Ryo and Robert are unapologetic ripoffs of Ryu and Ken from Street Fighter. To be fair, the designers of the game are former Capcom employees who had previously worked on the first Street Fighter game (yes the really bad, broken one.)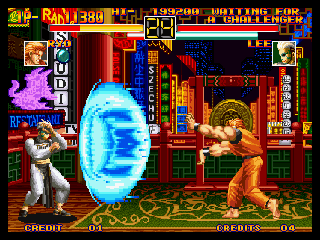 However, the Art of Fighting is not a bad or broken game. Quite the contrary. Though its protagonists are suspiciously similar to Street Fighter's, it is a very unique fighter that actually brought some innovations of its own to the fighting genre. There is one key mechanic that the game revolves around: The Spirit Gauge. Under each player's life bar is their Spirit Gauge. The Spirit Gauge regulates your special moves. Performing a special move depletes the Spirit Gauge and once it is empty, of course, you can no longer perform specials. You can recharge the Gauge by holding the punch button, but this involves your character entering a Dragon Ball Z esque pose, complete with glowing aura, and waiting as the meter slowly refills. This assumes your opponent is a derp who would just stand back and let you do this.
By forcing you to pick and choose when to special, this of course keeps matches from becoming campy projectile duels like what often happens in other fighters. You can even decrease your opponent's Spirit Gauge by taunting them. Your opponent having control over your Spirit Gauge means it is in your best interest to keep them busy lest they slip in a taunt and cause you to run out of gas for your fireball.
Art of Fighting was also the first fighting game to feature Super Attacks, as well as Desperation Attacks when a player's lifebar became too low. It also introduced back dashing and forward dashing maneuvers. These mechanics would later be featured in other fighting games including SNK's rival Street Fighter, and become a staple of the genre.
The game was a bit ahead of its time in the visual department as well. Whereas most fighters were visually cartoony and a bit outlandish at the time, Art of Fighting opted for a more realistic look.They achieved this by using huge sprites, and you can see the result for yourself. It definately looks different than its neighbors at the arcade.
The only flaw with Art of Fighting is lack of replay value for single players. In the game's Story Mode, the plot is, well pretty much the plot of every beat em up/fighter in the late 80s and early 90s. A female of personal importance is kidnapped by a rich douchebag in a business suit and you have to fight your way through town to get her back. To fill in the Mad Libs, Female of Personal Importance is Ryo's sister Yuri, and Rich Douchebag in a business suit is local crime lord Mr. Big. It's up to Ryo and Robert to make their way through Southtown, battling Mr. Big's underlings, to find out where he is and where Yuri is.
The problem is, once you have completed the game once, you have seen all there is to see. In the 1P mode, you can only play as Ryo and Robert through a very linear campaign. You fight the same opponents in the exact same order each time. But then, since fighters were made for multiplayer I am not even sure that should count as an official flaw anyway. Also it's rather jarring how some of the characters are carbon copies of the ones from Street Fighter. Not even just Ryo and Robert; John Crawley is quite obviously their version of Guile, Mickey Rogers is Balrog, "Mr. Karate"(Takuma) is Akuma, and the list goes on. Talk about deja vu.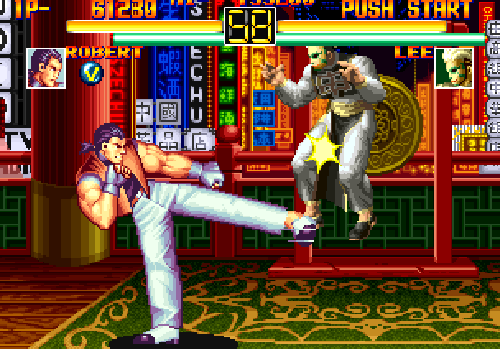 But the creativity and originality that Art of Fighting lacks in its cast of characters, it makes up for with the mechanics it introduced, all of which minus the Spirit Gauge have gone on to become genre staples. So while Street Fighter 2 became the basic template for 2D fighters as we know them, Art of Fighting expanded on that template. The Art Fighting went on to have 2 sequels in the mid 90s. Like its sister series Fatal Fury, Art of Fighting lives on today through SNK's King of Fighters franchise, as many of its characters have become regulars in it. It was a game that was a little ahead of its time and actually has held up relatively well. Though on the surface it could be easily mistaken for a prettier clone of Street Fighter 2, it has its own deserved place in fighting game history.