I would like to apologize ahead of time because I'm currently hyped up on Oreo Cakesters with Choco Creme and Rockstar, so beware.

Graphics
Dated, but I believe this may actually make the game better, cause it brings back the memories, of heavy pockets full of clinking quarters and the excitement that surrounded both the cabinet, and your SNES when you whipped out this game. Now the HD remix, totally redoes the graphics, which are beautiful in their own way, but the original, or rather the NEW CHALLENGER addition of this game are better for that great Nostalgia. Also who doesn't love the guy, who is always choking his chicken?
9/10

Storyline

Those the SNES versions really didn't have a storyline besides the premise of battling through the World Tournement and the sense of Accomplishement. of beating Akuma to a pulp, if you were good enough to get him instead of M.Bison. No Storyline though it doesn't affect the game at all, since it is your classical Arcade Fighter.
NO SCORE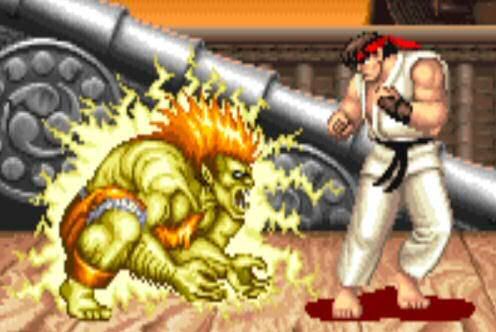 Controls/Gameplays

The Gameplay runs just as you expect, fight to the top, and link combos doing it. Also it has some fun button combos that shall traverse through history into other fighters such as the Hadoken's combo(Down, Forward, Punch). Controls run great, though occasionally(VERY RARELY, only happened once while I was trying to get my final Perfect in order to get Akuma ending) your punch will pass through the person and do no damage(Stupid Sagat, got a free punch in so I didn't get Akuma ending and had to try again).
9.5/10
Sound

Some of the most amusing tunes ever placed in a game. Every stage has its own song, and personally my favorites are Ryu's Theme, Chun Li's Theme, and Akuma's Theme. After beating the game with every character (and Ryu several time to get the Akuma ending) the music does get annoying, and very repetitive. Still deserves a good score though.
9/10

Overal Total Score:
9.25 out of 10.


Definately get your hand on this game, if you have never played this game, go out and find it somewhere, or get the HD Remix on 360 or PS3, or even find a ROM of it(Get the New Challenger cause it has extra characters).
~Sir Manguydude
P.S Capcom is GOD when it comes to Fighting Games.