GRAPHICS
The graphics of this game are purely awesome. The style of the graphics in MadWorld are very diverse, and there aren't many other types of games with such artistic and thoughtful graphics. MadWorld is very gruesome, your objective is to tear everybody to bloody shreds with your chain saw, spear, battleaxe and so on. As you hear this, you may think to yourself, "How could the game producers get this to be accepted?" The answer is that the game is very much little a comic strip, with cartoon-like characters in black and white. In fact, the entire game is black and white, apart from the blood, which is red. And believe me, there's a lot of blood. The game is very obviously made to look like a comic strip - it shows words like "stun", "crack", "zoom", and much more. This game has wonderful graphics, and it plays such a huge role in the game.
GRAPHICS: 9.5/10
CONTROLS
By swinging the Wiimote, it controls Jack's arms. By holding B, this controls the chain saw. The A button allows you to either attack an enemy, or holding A down makes you pick up an enemy. These are the basic controls of the game that you will be using most of the time. The thing that makes this great is the way that you use your wiimote. The game definitely takes advantage of the wiimote, and unlike some games, like Wii Music, when you are using your wiimote, you actually feel like you're decapitating somebody's head.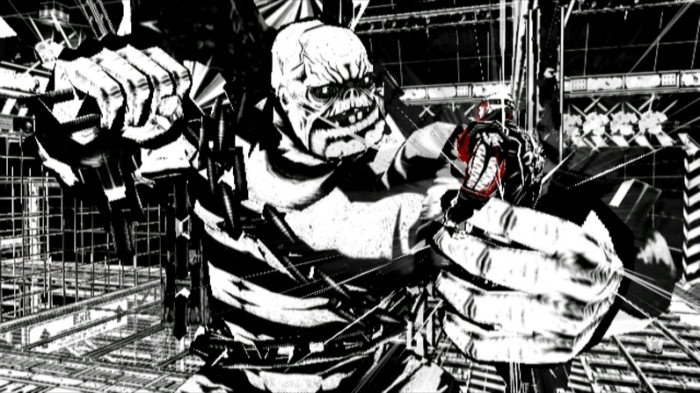 GAMEPLAY
MadWorld inspires you to be creative. There are several different items around your environment, and you can use most objects found around your environment to use as a weapon. Things such as bins, fans, musical instruments, tires, signposts and so much more can all be used as weapons against your enemies. There is a ceartin amount of points you need to get to pass the round, and the more creative you are, the more points awarded. For example, by just using your chainsaw, you are awarded a small amount of points. If you stick a tire around the enemy's body with a signpost through their head, you will be awarded with a lot more points. The game continuously inspires you to "Be creative", and by this, they mean to be as violent in as many ways as possible. One of the very few things which is annoying about this game is the fact that there isn't a huge amount of different ways to take out the lower level goons.
At the end of each level, there will be an awesome boss fight with a different finishing move for each one. The bosses are always interesting and different. There are also bloodbath challenges, which are small challenges that you can play in either single or multi player, and these are both amusing, gory and fun.
CONTROLS/GAMEPLAY: 9.5/10
FINISHING COMMENTS
Although the game is reasonably short, this doesn't matter. It is so fun that you'll find yourself playing it over and over. It's one of the best games for the hardcore game fan who owns a Wii.
OVERALL: 9.5/10