i wrote this quite awhile ago, but just remembered it an figured i'd post here.
Pacific Ocean Blue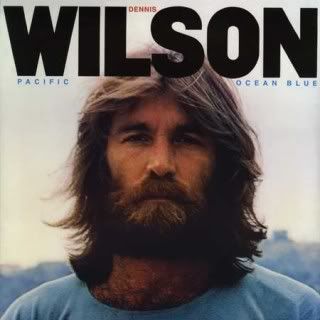 by Dennis Wilson
Caribou, 1977
I had heard the stories and the reasons for the album's revered status, and last year's rerelease piqued my interest. A remastered version of former Beach Boy Dennis Wilson's one and only solo album before his untimely death, complete with recordings from the fabled Bambu sessions, sounded incredible. But for whatever reason I sat on it... until now.
Musically, Pacific Ocean Blue sounds very of its time and would not be out of place in any "classic rock" collection, but the unmistakable flair of the Boys is present. Wilson makes good use of multi-part harmonies, and constant references to his past fun in the sun days permeate, such as a brilliantly placed choral rendition of the chorus to "Pineapple Princess," and a smart reference to the water chant from "In Blue Hawaii" off brother Brian's legendary Smile album. It's certainly a unique sound that ultimately could only come from such a unique perspective, that of a burned out ex-superstar.
The first thing that really strikes you is Denny's voice. The unfamiliar would never guess that this was once part of a vocal-oriented group, let alone the Beach Boys. Raspy, low, oftentimes straining, the vocals throughout sound beaten and hard-lived. The years of substance abuse are ever apparent, not just in the vocals but in lyrics of wild nights and listless meanderings, and the overall sound alternates between almost regretful reflection and what can only be in-the-moment, instant gratification.
What we have here is a last bout of very poignant expression from a man who lived a very hard and very fast life. Not once does any song feel out of place or is the listener placed in disbelief – this album IS Dennis Wilson, throughout his ups and downs, throughout our ups and downs. Pacific Ocean Blue marries the joy and the pain like all good art, and is a rewarding, relatable experience for the listener.