BATMAN FOREVER
INTRO
If you're a Batman fan, I am sure that you will be aware that Tim Burton directed the first two Batman films, which were named
Batman
and
Batman Returns
. These two films were both very dark themed, because as any Tim Burton fan will know, Burton likes directing dark themed films. Unfortunately,
Batman Returns
was seen as too violent. It was then decided that the next Batman film would be a more family-friendly film, and Joel Schumacher was hired to direct the film. This meant that Michael Keaton, who was originally going to act as Batman, decided not to act in the film, and Val Kilmer played the role of Batman instead. This wasn't a big disappointment for me, since I actually think Kilmer played Batman better than Keaton.
IN COMPARISON TO TIM BURTON'S FILMS...
In my opinion, Joel Schumacher's take on Batman was good in some ways, but I preferred Burton's films more. Burton's idea of Gotham City was very dark and gothic-like, while Schumacher's Gotham was much brighter, (like Tokyo at night).
I liked how the film was aimed for a younger audience, but at the same time, it has some dark themes, so it can be viewed by a whole family, rather than
Batman Returns
, which I would only recommend to thirteen year olds and up.
ACTING
I thought that Tommy Lee Jones' portrayal of Two-face was terrible. It was much too comedic. He is meant to be insane, not retarded. Seriously, I don't know how it could have been played any worse. Tommy Lee Jones acted nothing like Two-face at all. He acted more like The Joker. Two-face is meant to be a much calmer, more threatening criminal. I'm not sure whether it was Schumacher or Jones' idea to make Two-face a comedic character, but whoever's idea it was, it was not a good one.
Jim Carrey did an... adequate job at playing The Riddler. But I also felt that the role of the Riddler was much too comedic. I think the film would have worked a lot better if Jim Carrey hadn't acted so comedic, and had taken the role a little more seriously. If I had to give Carrey's acting a score, I would give him a 7/10. It was good, but could be improved on a lot.
Val Kilmer was by far my favourite actor out of all of the actors in the film. He just seemed to fit the role of both Batman and Bruce Wayne perfectly. I think that Kilmer has portrayed the role of Bruce Wayne the best out of all of the actors so far (Michael Keaton, George Clooney, Christian Bale and Adam West). However, I think that Kilmer's portrayal of Batman wasn't quite as good as Michael Keaton's.
I have never liked Robin, however, I was very surprised at how well Chris O'Donnel played Robin. In my opinion, he's not as good as Kilmer, but still manages to play Robin very well. I wish I could compare O'Donnel to another actor, but the only other actor to play Robin was Burt Ward in the old TV Series of Batman - and it's hard to compare O'Donnel to Ward, since their portrayals of Robin are so different. I liked the story of where Robin came from - he is an experienced gymnast who finds out that Bruce is Batman, and then becomes his younger accomplice (Robin).
COSTUME CHANGES
The batsuit in
Batman Forever
includes rubber nipples and enlarged codpieces. This is often linked with Schumacher's homosexuality. Personally, I don't have much of a problem with this - the nipples and codpieces are barely noticeable anyway.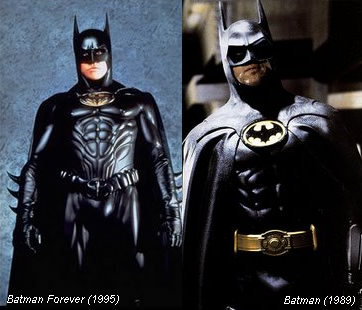 Left - Val Kilmer in the Batman Forever suit, with nipples and enlarged codpiece
Right - Michael Keaton in the original Batman suit.
CONCLUSION
It would have been really interesting to see how Burton would have directed this film. Batman Forever is definitely not as good as its two predecessors (Batman Returns and Batman), but it still definitely a good Batman film, especially if you are wanting to introduce Batman to a young child.
MOVIE RATING: 6.5/10