Deep Purple in Rock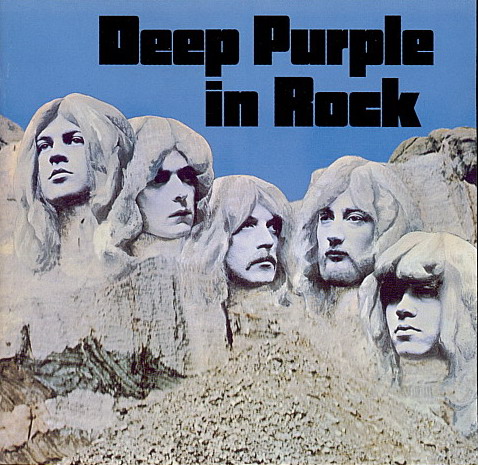 TRACK LISTING
1. Speed King
2. Bloodsucker
3. Child in Time
4. Flight of the Rat
5. Into the Fire
6. Living Wreck
7. Hard Lovin' Man
INTRO
Deep Purple in rock is an awesome album. When I tell you that this album is forty years old, you may immediately link the age of the album to the quality to album. When I was younger, I used to think that the only good music was recent music. But since I have started listening to older bands such as Deep Purple, I have realised how stupid I was to immediately assume that all "old" bands are bad.
There are only seven songs on this album. Some people complain that seven is a too small number of songs to have on an album, but I quite like this idea. By having fewer songs on an album, each of the songs has more of an identity, and is remembered more.
REVIEW
The album starts with
Speed King.
I cannot describe how much I love this song. For about the first minute or so of this song, organ, guitar, bass and drums are all being played at the same time, all instruments are going completely crazy and making a whole bunch of wicked noises. The music then starts to calm down, and then all instruments apart from the organ stop playing. It sounds incredible. This is most likely the best intro to a song that I have ever heard.
Bloodsucker
is the second song of the album.
Bloodsucker
is a great song, but after listening to Speed King, it is difficult for a song to sound good.
Child in Time is the third song, and is also the longest song on the album, with a time of ten minutes. I really like this song. It starts off soft and calm, then progressively gets louder, then becomes soft and calm again, and then gets progressively louder again, and then slowly fades out at the end. The thing that makes this song so great is the way that it changes mood, maintaining the listener's interest.
The other songs are great too, but the first three songs on the album are the ones that I enjoy listening to the most.
Flight of the Rat
has great vocals and a great lead break, and
Into the Fire
's strong point is its guitar riff. The last two songs on the track (
Living Wreck
and
Hard Lovin' Man
) are great too, but I don't have anything particular to say about them.
CONCLUSION
Deep Purple in Rock
is a great album. If you're young (like me), and are only listening to recent bands, then I suggest that you listen to Deep Purple. Listening to an older band like Deep Purple will give you a better understanding of heavy metal, and how the genre of heavy metal originated, because not all "old" bands are bad.
Overall Score: 8.5/10