Wahoo, another music game! There's already a plethora of them, so does the cockily
named
Ultimate Band
have a place in the competition?
Yes. Yes, it does. Have you ever got down to
Guitar Hero
or
Rock Band
with kids
involved, only to have them pouting like they just dropped their ice-cream in the dirt
because they can't keep up? That's where Ultimate Band comes in. Rather than
being aimed at the older rock-out market, this one's aiming straight for the bullseye
tattooed to the foreheads of pre-teens. Well, if their parents who just, like, don't
understand them would actually let them get the tattoo…
The best thing? You don't need more, huge, plastic instruments cluttering life, as it's
all Wiimote and Nunchuk driven – it's a waggle frenzy! Think of
Ultimate Band
as
Rock Band
's younger, naïve sibling and you'll be on the right wavelength. It boasts
simplified takes on most features, from setting up a band, designing its members
(including some seriously bizarre headwear) and progressing from garage to
megahypersuperduperplex, to simple 'jump in anytime' casual mode.
Like most such games, there's guitar, bass and drums, but what of the singer when
there's no mic? Easy, they just have to move about like a git and not subject
everybody to their caterwauling. Sweet ear relief! Predictably, each instrument has its
own screen real estate, where coloured blobs and symbols conveyor-belt along.
Choose 'easy' and there isn't much to do except keep beat, but ramp up the difficulty
and button combos come into play on the Nunchuk, along with more moves with the
Wiimote such as guitar windmills, handclaps, drumstick twirls and more. Do well and
special moves give mega-points.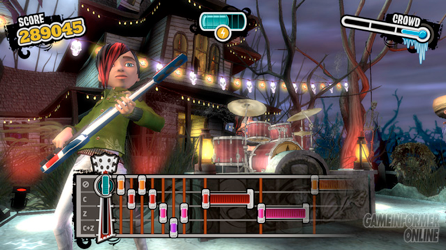 Essentially,
UB
is air-guitar/drums/bass, and it's actually relatively freeing if you can
break free of your upper-class ways, forcing the game onto the kiddies. The drums
definitely remind me of the minigames in the second Rabbids instalment – just with
more to do and nothing screaming 'BWAAAAAAAAAHH!'
As for songs, there ain't no master tracks here. Instead, a mere 35 cover versions are
included. They're not always particularly faithful – for staters, one neat feature means
that if your ineptly named 'frontman' is a chick, the vocals you hear are female – but I
can't fault the stylistic range. Any kids' game that features the Pixies' 'Debaser',
Kasabian's 'Club Foot' and the B-52's 'Rock Lobster' gets a tick from me just on
subversion merit alone.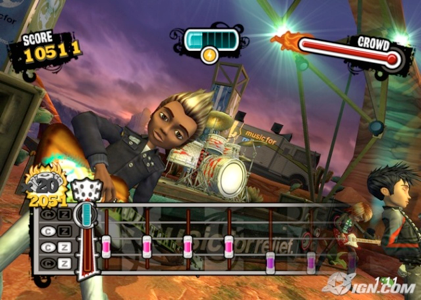 There's also more predictable tween fare with songs originally by the likes of
Paramore, Fall Out Boy, Jonas, and Pink, plus a pleasing handfuls of classics dating
back to the 1960s.
If you're after a hardcore music game, then this isn't it – and was never meant to be.
But if you're after one that absolutely anybody can pick up and (while feeling like a
complete loser) play, this could be your passport to rock.