So here's my review of Alan Wake I hope you guys and girls enjoy it.
Ok so let me paint a picture of the story/plot or at least attempt to do so.
Alan Wake, a best-selling writer from New York, and his wife Alice are on Vacation in a town called Bright Falls, in Washinton State, when his wife suddenly goes missing without a trace. While trying to unravel the peices of the puzzle to his wife's dissapearance he discovers pages here and there of a story called "Departure" and the author of it is Alan Wake, but he has no memory of writing the story. Whatever happens in the story happens right before his eyes at one point or another. He is trailed by something known only as "The Darkness" and that pretty much speaks for itself. If I go to far here I'll ruin parts of the game so lemme just leave you with this...How far will one man go to save someone he loves? If you wanna know more about it I suggest going out and buying a copy of it and playing through it and find out.
I've pretty much covered the storyline already so lets jump right into the graphics part of this game.
The game runs off the Havok engine which is one that also runs games like Spinter Cell Conviction, Prince of Persia, and even Lost Planet 2 so it's a pretty popular system and it works well with free-flowing enviroments such as the dark forests and the city in this game. But primarally this game thrives in Darkness so the engine mechanics work very well with the game.
So lets talk about the controls for a few minutes.
I mean personally I can't say enough about the controls to this game. I mean they did a magnificent job with how well everything works together. And how many game do you know where you have to conserve and reload the use of your Aiming system? I tell ya I haven't found one yet where you not only have to reload your gun but you have to reload how you Aim as well. It brings a new sense of depth to playing the game because you aim with your flashlight, and the flashlight has to be used to break the darkness off of the enemies so you can kill them with your gun. So if you run out of Batteries you're pretty much screwed until you find more. But enough about the aiming mechanic they brought to this game, let's talk about the the huge exspanses of map space. Each level in the game comes with miles and miles of walking area with new places to discover, secret pages of the writing to find, and help boxes full of either guns, flashbangs, flares, or a flare gun. The only thing about the game that kinda ticked me off is the lack of good weapons. So like you start out with a revolver which is awesome, then you get a shotgun which is better, then you get a hunting rifle which is completely Amazing!!! Then what do you get next you might ask?.........that's it no more weapons to choose from for the rest of the game. Which I mean those guns you can aquire each time you start a chapter but here is the next catch, you can only carry either the shotgun or the rifle along with the pistol.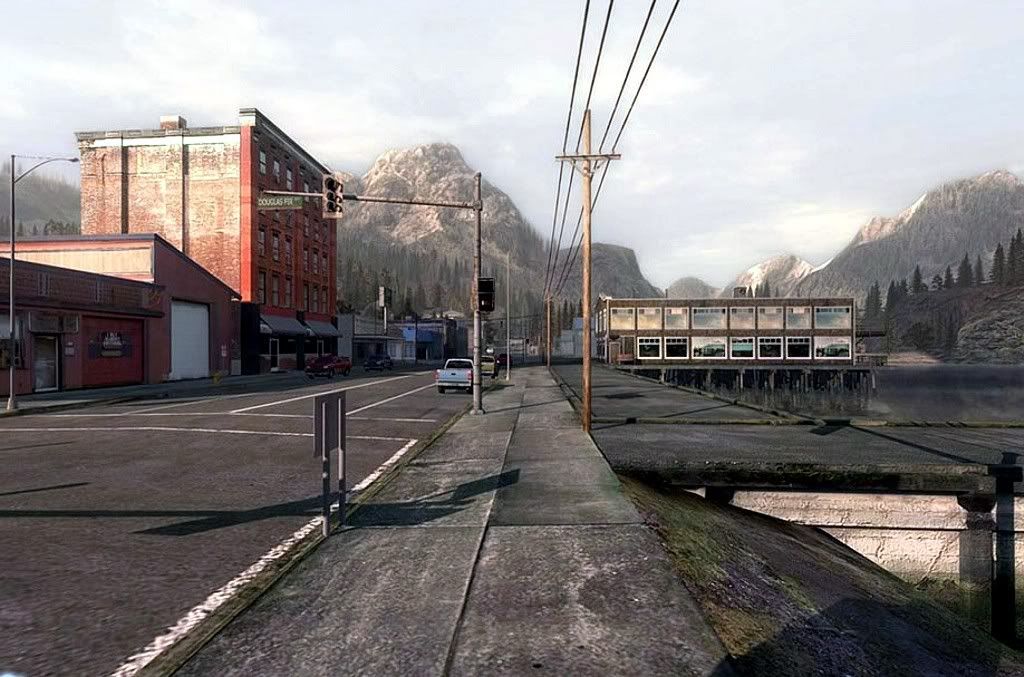 One more thing to talk about now and that is the sound which this might surprise you a good bit if you read my other reviews.
I actually loved every waking minute of the sounds in this game. Which is saying something for me because I usually find one or two sounds that tick me off to the point of throwing a game out the door. So anyways the battles sounds are kicked off by this like shocking noise then it gets pretty cool sometimes they play like heavy style music with it and then sometimes they place lighter typed music but all of it is very good and I enjoyed it very much. Keep this in mind as well the entire soundtrack to the game is licensed which means if you like the song in the game it is for sale in stores and on iTunes. It features musicians like Roy Orbison and Poets of the Fall. But yeah the entire soundtrack to the game is unlocked so you can listen to every song once you beat the game which is pretty cool.
But anyways that wraps up my review for Alan Wake. I hope you all enjoyed it and if you are interested in the stuff I wrote about it go out and buy or rent a copy of it and play it through and see what you think about it.
Writer's Note: These are my personal views of the game nothing more.
Anyways give me some feedback about my review lemme know what you all think.
Thank You,
~Cloud