I first got Pikmin in 2002 for Christmas. I asked for it simply because I had called my friend on the phone, and he was playing it and said it was good, so I really had no idea at all what I was getting into when I asked. It turned out to be one of the best "Hell, why not" decisions ever.
Pikmin was inspired by Shigeru Miyamoto's own garden. He was watching some ants work together to carry food back to their den. Pikmin, in a sense, are like ants, but are also part plant. They are odd bu lovable creatures that aren't even the size of a quarter. Olimar, the game's protagonist, first encounters them when he crash lands on a mysterious planet. This planet(Earth) contains oxygen, which is poisonous to Olimar's people. He quickly learns that these creatures will help and obey him, and devises a plan t sue them to gather the missing pieces of his ship,the S.S. Dolphin. Olimar's life support will fail in 30 days, however, so he must hurry.
The game play as technically that of an RTS but Pikmin, in my opinion at least, strikes a balance between RTS and adventure. The goal is not to build a better army than some other army, or to try to make your base better than someone else's. Your goal is to explore, return pieces of Olimar's ship, and survive. Pikmin can be controlled with the C stick, and thrown with A, so you may direct the Pikmin, which follow behind Olimar to perform the task you wish. There is no convoluted menu system in giving a command. simple move your Pikmin towards the object you wish it to interact with, and it will begin to perform the task.
After killing enemies, you may collect their remains to generate more Pikmin. the more Pikmin you have in stock, the better, although no more than 100 can be out at once. Each color Pikmin have special attributes which you must learn to utilize correctly. Red Pikmin are the ebst fighters, and are also impervious to fire. Yellow Pikmin can pick up bomb rocks, and can be thrown the farthest. Blue Pikmin are the weakest Pikmin, but they are fast and can breathe in water. as you collect mroe parts, more areas are available for you to explore.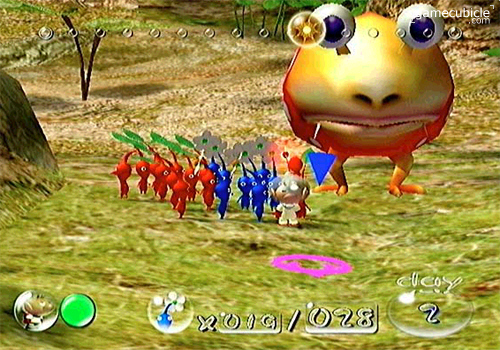 Of course, all exploration must be done in the daytime. When the day is over(15 minutes), Olimar must retreat to the planet's atmosphere with his Pikmin to avoid the dangerous night life. some people don't like this sense of being rushed, but I think it gives the game a unique urgency.
Pikmin was not an instant hit, but sold well enough that Nintendo produced a sequel, and Olimar is now in Super Smash Bros. Brawl. they're allegedly working on a 3rd title as well, and this version of Pikmin has also been ported to the Wii. It is one of Nintendo's newer, less popular franchises, but as the Pikmin themselves prove, just because it's a small package doesn't mean that it isn't something amazing.