Over the years, Mario and co. have made their mark on
every sport under the sun: karting, baseball, tennis,
basketball, even the damn Olympics. Golf was one title
from ye olde early days that Nintendo decided to
resurrect for the 3D revolution, and it was a very wise
decision indeed.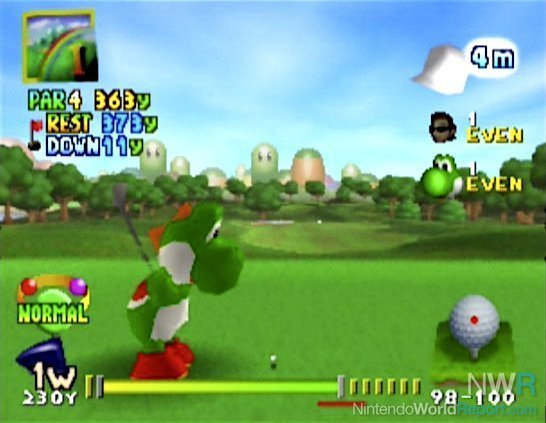 Featuring 14 different playable characters, six different
courses, and 10 different modes (including tournament,
speed golf, mini golf, etc.), Mario Golf is one of the best
examples of an ordinarily boring sports game done right.
Mario Golf has plenty of that pick-up-and-playability,
because it does away with many of the complicated,
fiddly aspects of the sport that are found in games like
Tiger Woods. Even still, there are 108 holes to master
here, and you still need to carefully calculate the exact
ball movement based on wind direction, the strength of
your strike, and any spin you may choose to apply. That
said, younger players won't be left behind if you set them
up with the difficulty-neutering "Club Handicap Mode".
Although Mario Golf is sugar-coated and cartoony, any
gamer looking for a quality sports title should score this
immediately. With an impressive amount of options in
both single and multiplayer (including taunting other
players when they putt), Mario Golf gets better the more
you play it. While a rabid 'golf-head' would certainly love
this to death, perhaps the important thing is that it's
noob-friendly enough to hook anybody.