Half-Life was an amazing game, filled with amazing areas, interesting creatures, and a great story.
But what is better? Half-Life 2, and for very good reason.
An what altogether made this game great? Every little bit helped.
Graphics
The graphics were a high point in this game. They were almost real, and made this game feel almost real. Every character's face was a modeled version of an actual persons face, giving each character a personality rather than just an appearance.
Not only the characters, but the environments were very well detailed, with objects just lying around, with models and textures, so the area was more alive than just an empty area.
Story
The story is fairly straightforward, and continues off of the past game. The Combine have made Earth theirs, controlling almost every part of it, and killing out the human race. So, it's up to the protagonist Gordan Freeman to save Earth from galactic enemies as he did in Half-Life, but this time, he has friends.
Yes, unlike some other games, Gordan has allies throughout the game, thus making the game more interactive. There are various rebel squads that help out Gordon, as well as some old friends from Black Mesa. Barney Calhoun and Alyx Vance also help Gordon in his journey, thus giving the game yet more of a real life feeling, as though the player itself is interacting with the AI.

Gameplay
Half-Life 2 has an interesting genre mix. It's an Adventure, First-Person Shooter, with puzzles thrown in all over the place.
Not to mention, Half-Life 2 isn't like a generic shooter. It's not just the player against over 9000 soldiers from another nations army. It's the player, against over 9000 soldiers from a galactic army, dimensional parasites that turn people into zombies, giant dimensional monsters that hide underground and come out to kill violently, and insanely large walking turrets. It is definitely not generic.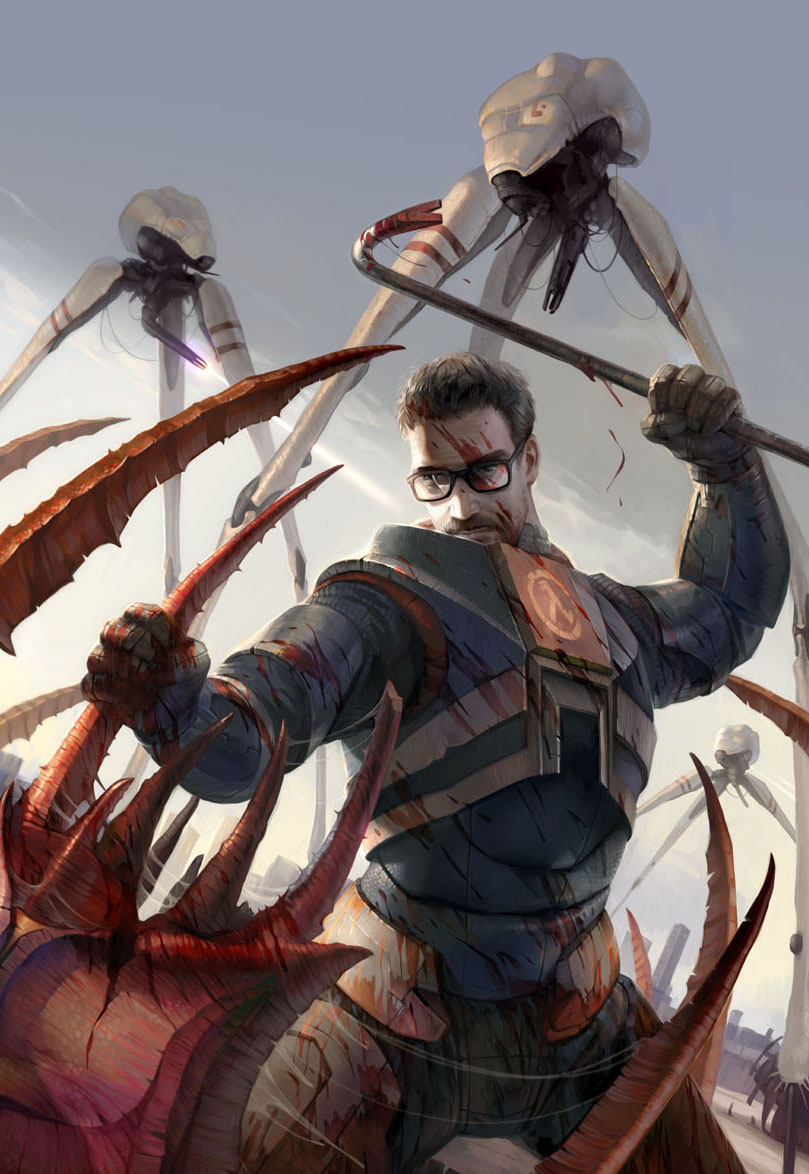 As a plus, the controls are very easy to get used to, making the player more comfortable with the game very early on.
Half-Life 2 also makes use of in-game cut-scenes. This means that it doesn't cut away from gameplay to show a cut-scene, the cut-scene happens in-game. This unique feature makes the game continuewithout constant interuptions, and is very useful.

Sound
Half-Life 2 is one of those games with no real background music. sure it has short little tunes at some in-game events, and gets the player's adrenaline going. Is that bad? Hell no. The music-less atmosphere gives the game it's personality, making it both unique, and ominous. This combination is very good, and makes the game so much more enjoyable.
The character voices are also very well done. They are very clear, very distinct, and continue to give the game it's interactive touch. This is also true with the enemy sounds. They are all different, unique, and sometimes get the player excited, knowing that they must fend of some sort of enemy they really like.
Plus, the weapon sounds are different, so players know to either be prepared, or run, as some are more dangerous than others. The distinct sounds show that this game had a lot of work done to it.
--------------------
So, as stated, everything in this game makes it awesome, and heightens the gaming experience. Alice loves this game dearly, and gives it a perfect
10/10
.