Falco Lombardi
First appearance: Star Fox (
1993)
Latest appearance: Star Fox 64 3D
(2011)
Just in time for Thanksgiving, my second spotlight is on my favorite bird, Falco Lombardi. Falco ties with Wolf O'Donnell for my favorite Star Fox characters, and he's one of my favorite Nintendo characters period.
Falco debuted in the original Star Fox on SNES. Even in his first appearance, he maintains his infamous arrogance. His arrogance isn't completely unwarranted however; he's one hell of a pilot. He was the only one of your three AI teammates who could completely hold his own in battle. Only occasionally would Falco require assistance, compared to Peppy and Slippy who are almost always overwhelmed. He's also infamous for not really thanking you for saving his blue behind.
Falco's next appearance would be in the Nintendo 64 "remake" of
Star Fox
,
Star Fox 64.
He's still his cocky self, but he's also even more help. Using his flying and manuevering skills he could uncover "secret routes" for the player. He is only rarely defeated in missions, and from time to time he even saves your butt by taking care of some enemies in your path (again compared to Peppy and Slippy who find themselves being chased around by enemies).
Character wise he's a little more fleshed out. He still has alot of lip, and he's definately confident. He is also given his own rival on Leon Powalski of the Star Wolf team.
Super Smash Bros Melee
marked Falco's first playable appearance (unless you count Star Fox 64's multiplayer). This allowed him to show off his hand-to-hand combat skills as well. Though he played exactly like his captain for all intents and purposes, he was a bit stronger and a bit slower, but an overall better jumper. Nonetheless he was a nice edition to the roster to have, as it signaled the success of his career.
Unfortunately, the drawback of such a good pilot is that he is only on the team when he feels like it. The blue bird is nowhere to be seen in the third
Star Fox
outing,
Adventures
(GameCube), until the last boss. It was already a subpar
Star Fox
as it is (in my opinion, anyway) but with no Falco in it, that didn't help. I suppose you could argue that he didn't need to be apart of the story since it's mostly on foot exploration and having him just be there to give advice like Peppy and Slippy would be a waste. I say having him be apart of the story and being able to play some missions as him would have been nice to have. Or even better, a co-op mode where player 2 is Falco. But I digress; supposedly his absence is explained in a Manga set between the events of
Star Fox 64
and
Star Fox Adventures
.
Mr. Lombardi returns yet again in the subsequent
Star Fox Assault
(GameCube). It's here that we recieve a little more in-game information on his past: he is an ex-member of an intergalactic gang.
Even though it isn't much of a surprise considering his general recklessness and lack of respect for authority and general issues with cooperation. When you combine that with his passion for the Star Fox team however (even if he tries to hide it), it makes him a much more 3-dimensional character.
The latest entry in the
Star Fox
continuity,
Command
(Nintendo DS), was Falco's first playable role in the main single player campaign, alongside many others who were previously not extensively playable.He even has his own ship, the Sky Claw, with unique attributes (albeit it's not exactly the best with its low shields and it can't really store many bombs). What's nice is that depending on the choices made though, Falco has his own branch of the story, like many others being that this is basically a choose-your-own-adventure game.
Falco also appears in the latest installment of
Super Smash Bros, Brawl.
Like the other "clones" they were thoughtful enough to at least make his moveset visually diverse and more stylized to be more Falco-ish, like kicking his reflector around like a hackey sack to show off. He also plays an important role in the Emissary eventually, naturally starting by saving Fox's rear end to start. Overall he plays better than he did in Melee and has a much cooler and personality matching voice.
One of the things I love about Falco is that he is a true, for lack of a better term....
badass.
He's cocky and talks alot of crap, but he can back it up, both in the cockpit and up close. Many "badasses" in video games either can't back up their smack talk, or choose not to. Choosing not to is respectable, but it's even cooler and funnier when you can do both. He's an invaluable ally to Fox, and despite his inconsistancy with staying on the team, he is always at Fox's side when needed, like a few of the
Star Fox Command
endings. His East Coast accent also helps. He's also good at showmanship, seeing that he likes to save you at the last minute.
Rock on Falco, and we promise to keep our hands off your bread.
Then: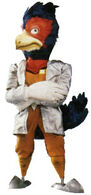 Full body artwork of Falco from the original Star Fox
(1993)

Falco's in-game appearance, his communications image(1993)
Now: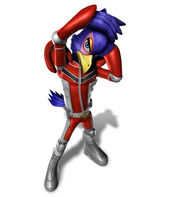 Star Fox Assault (2005)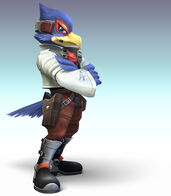 Super Smash Bros Brawl(2008)